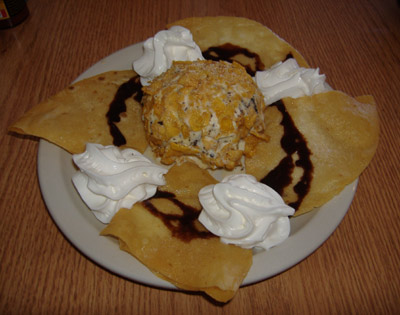 Wow, check this out. While searching for some of the more obscure things to do with ice cream I came across fried ice cream.. that's right, fried ice cream!

Apparently this rare dish is popular in mexican cuisine as well as Chinese and Japanese resteraunts in the U.S.

It is made by taking a scoop of ice cream which has been frozen at a very low temperature (even for ice cream), rolling in cornflakes or cookie crumbs and then briefly deep frying! The extremely low temperature of the ice cream prevents it from melting while being fried.

There you have it, strange but true! I haven't tried it yet myself but I imagine the extreme hot and cold temperatures would be very weird and it's probably quite hard to get right without melting the ice cream. Interesting none-the-less.